In the 8th century AD, the largest and most powerful city in the world was Chang'an. It was the thriving imperial capital of China's Tang Dynasty, an enormous and prosperous empire which ruled during a period widely regarded as the golden age for Chinese culture.
The show took place on the day of the Lantern Festival, the 15th day after the Chinese New Year. Curfew was lifted and people flooded in from all around to celebrate. Every corner of the streets was filled with elaborate lantern decorations of all shapes and sizes, showing off the city's wealth and splendour.
The mood in Chang'an was exuberant.
However, underneath all the hustle and bustle, tension has been creeping up. Li Bi, the young official in charge of the Peacekeeping Corps (Tang's version of the FBI), received a tip-off that a group of terrorists (Wolf Squad) had infiltrated Chang'an to plan an attack. With only 24 hours to save the city and its people, he sought help from an unusual partner, Zhang Xiao Jing, a veteran and ex-detective captain but currently on death row.
So why Zhang Xiao Jing? Who are the Wolf Squad and what is their plot? Does this have anything to do with the court intrigues and politics? Who is the mastermind? Truth will reveal itself, if you are ready to take on 48 action-packed and suspense-filled episodes of The Longest Day in Chang'an (or "Chang'an", available now on Amazon Prime), each episode unravelling another half hour of a 24 hour day.
---
What I like about the show
Does a 24 hour thriller suspense drama ring a bell? But calling "Chang'an" China's answer to Kiefer Sutherland's hit TV show 24, in my opinion, is an understatement.
Would I have liked it to be a bit faster-paced, especially in the second half leading up to the finale? Perhaps yes. After all, it is not unusual for Chinese dramas to be criticised for being excessively long – 48 episodes are actually more on the compact end. But I've decided that I am happy to overlook this minor shortcoming for all of its other outstanding qualities: a clever double detective plot with interesting twists to history, stunning cinematography with a dazzling display of Chinese martial arts, as well as the impressive attention to detail in reproducing a Tang society true to the era, from architecture to costumes.
There were no shortage of witty parts which brought smiles to my face, too. It is true that Tang Dynasty was run on sophisticated bureaucracy and the government had enormous amount of record keeping. And a creative re-imagination of how this worked injected a sense of humour and futurism, which works quite brilliantly.
Scenes of bureaucrats mulling over complicated archiving system screamed "big data" all over it. There were watchtowers across the city that communicated with each other by coded semaphore. There was even a detailed 3D model replica of the city at the Peacekeeping Corps HQ, where they tracked the bad guys based on reports from the watchtowers. Does that remind you of the flashing blue GPS dot in Google Maps?
---
What is the historical context
The Tang Dynasty was very different from any other periods in the Chinese history.
Chang'an (modern day Xi'an), the greatest city in the world at the time, had a population of up to 2 million. It was carefully designed in grid style, with walls, gates and intersecting roads dividing the city into 108 wards. The wards are largely self-sufficient and gates to the wards opened at sunrise and closed after sunset.
The Western and Eastern Market were government designated marketplaces. They were equivalents to today's CBD, full of shops and restaurants. The Western Market, where many scenes of the show were shot, leads to the Silk Road and was the bustling hub of international trade at the time. No surprise that it was during the 8th century that Chinese paper making first spread to the Arab world.
Chang'an was not just vibrant, but also incredibly cosmopolitan. There were Persian, Sogdian and Arab traders, Nestorian Christians, Indians, Japanese and Koreans. You would see green-eyed, blonde-haired Tocharian ladies serving wines, singing and dancing at taverns to entertain customers. The city was a simply magnet for people from the surrounding world.
The show accurately incorporates this cosmopolitan history of Chang'an, with several non-Chinese characters. There is Ge Lao, "Lord of the Dungeon" (played by Djimon Hounsou), a Beninese actor. In the Tang Dynasty, Kun Lun slaves (昆仑奴) were dark-coloured slaves captured in Southeast Asia or African slaves bought in by Arab merchants. Known for their strength, good temper and loyalty, they were very popular as labour or servants for aristocrats and wealthy merchant families. There is also a Nestorian priest, a self-styled "Prince of Persia", who makes a few cameo appearances midway through the series.
To put this into perspective, around 5% of the population of Chang'an at the time were foreigners, which is, you'll be surprised to learn, actually higher than the proportion of foreigners in Beijing or Shanghai today.
Japan and Korea also looked to China as the great cultural pinnacle of the time. Paying a visit to Kyoto or Nara today would allow you to catch a glimpse of what Tang China used to look like. Both Japanese imperial cities were modelled after Chang'an, thanks to numerous Japanese missions sent to Tang China from 7th to 9th Century.
"The Japanese took the language, architectural design, clothing style of the Tang. The things we think of characteristically traditional Japanese culture today actually came from China at the time. China during the Tang, radiated its cultural power across the whole Eastern Asia sphere."
"Tang buildings were incredibly beautiful. Not much survived in China unfortunately but you have temples in Nara, Japan which are direct models… And there were not just Chinese building styles. There were six Zoroastrian temples. There was a Nestorian Christian church and a Manichaean temple so you had an incredible variety of richly coloured and beautifully built assembly on display in Chang'an."

Source: In Our Time – The An Lu Shan Rebellion (BBC)
Tang clothing and make-up, like the rest of the Tang culture, were also full of glamour. Ladies' dresses consist of two parts – the skirt was long and loose, flowing with elegance and covered in gorgeous designs.
Doing make-up was an elaborate process for Tang ladies. They usually started with face powder as foundation, followed by a dusting of rouge or light yellow powder. Black eyebrows were then painted, lipstick applied and dimples added. An decorative design was either pasted or painted on the forehead as the last step. "Cherry" lips, referred to lips with shape and colour of a cherry, are one of the most popular lip patterns of the time, covering only the central parts of the lip.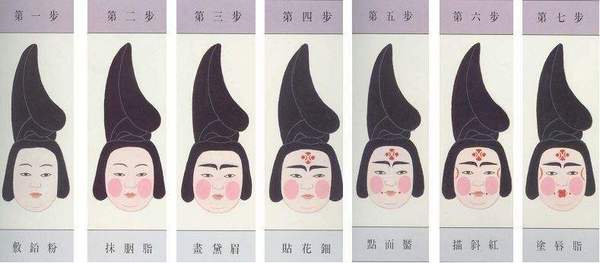 All of these details are beautifully captured by "Chang'an", thanks to Director Cao Dun, who grew up in Xi'an and was adamant to ensure the visual depiction of his hometown was as vividly authentic as possible so that the "audience can tell from this one day what people's life have been like prior to this story".
To achieve this, his team spent more than a year painstakingly researching into Tang's historical records, frescos and archeological finds. They even went as far as building an intricate city replica as drama set which covered 12 acres and took them 7 months to complete. At one point, there were as many as 1,500 extras involved in the filming of certain scenes.
"The greatest charm of this culture actually lies in the lives of ordinary people hidden under the prosperous facade."
Ma Bo Yong, the author of the original book said so during an interview.
I think "Chang'an" and the team behind it has certainly done him justice.
Like what you read? Sign up for our

free newsletter!